June, also known as wedding month, has come to an end but that doesn't mean couples won't be tying the knot all-year round.  In the US, July is as popular as June, while November and December are actually the least favored time to wed.  On the other hand, in tropical countries like the Philippines, December is another popular month to get married, especially since this is the coolest time of the year.  Most importantly, relatives and friends working and living abroad are usually back  in the country to spend Christmas with their families making it the best time to get all the loved ones together.  I know I'll be attending a few December weddings.
Future brides, here are more wedding gown inspirations to help you find that perfect gown for your special day…..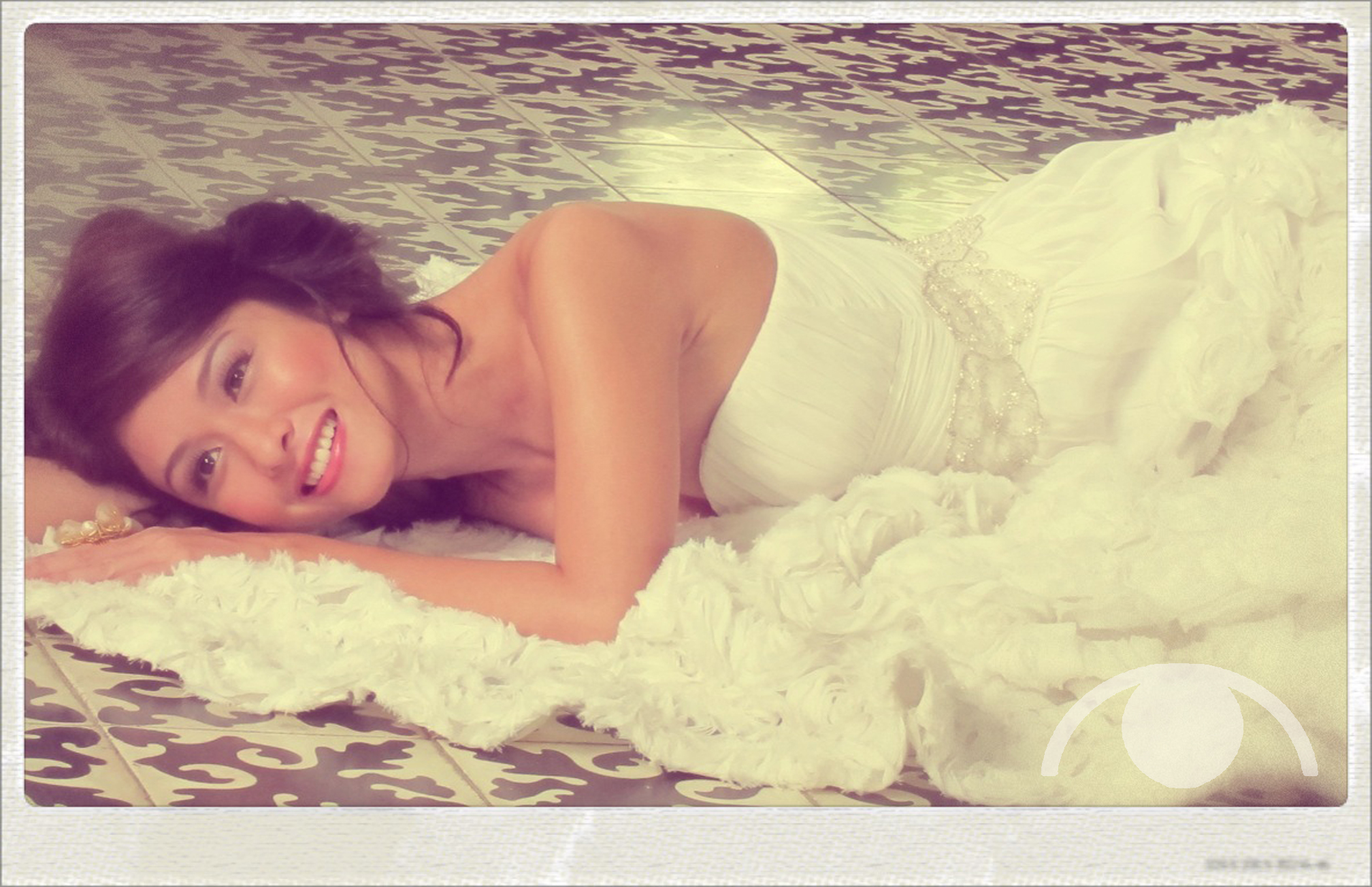 ("Behind-the-seen"…. Kelly looking dreamy in a Mel Orlina creation)
To cap of the wedding month of June, I'd like to thank Style Weekender and editor-in-chief, Liza Ilarde, for the opportunity to pool my team and style their bridal issue cover and inside fashion editorial.  Our cover featured gorgeous model Kelly Misa, now also a blushing bride-to-be….  Congratulations on your upcoming nuptials!  We had fun playing bride at our shoot in preparation for your big day, Kelly! 😉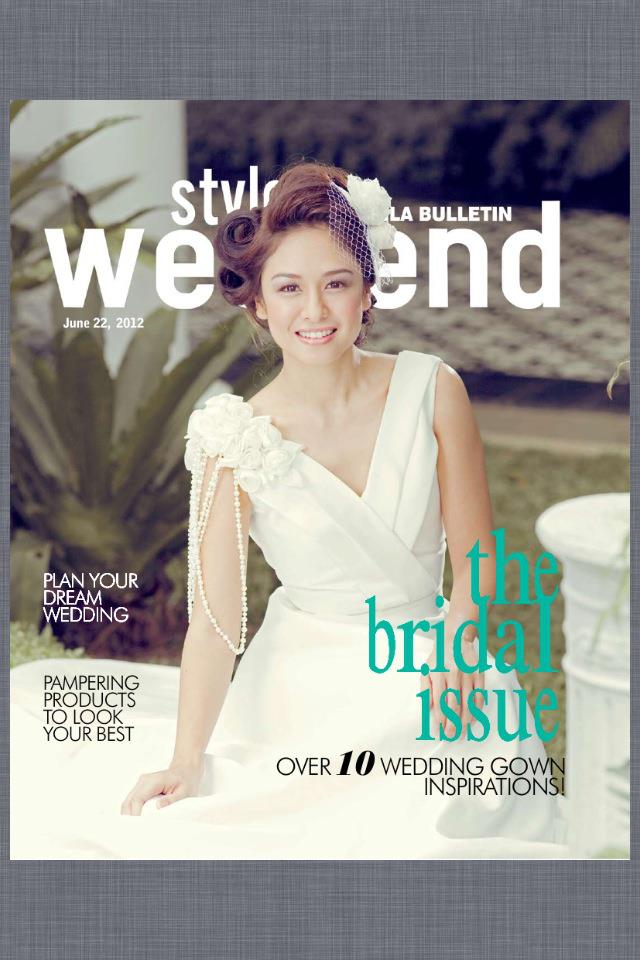 (Featured on the cover above: Pearlized duchesse satin gown with shoulder detail of a corsage of rosettes and draping multi-sized pearls by Danilo Franco for real bride, Sheila de las Llagas-Hidalgo, vintage-inspired wedding veil with hand-beaded pearls, hand sewn lace and satin rosettes over French netting by Bonne)
Our location was Antonio's in Tagaytay, a beautiful venue for a wedding reception.  I've attended a wedding reception here for my good friend, Marv and her husband Joao and yes it was breathtaking!  The candles, the food, the setup, the weather, everything was perfect that night.
Here are more of my behind-the-scene shots….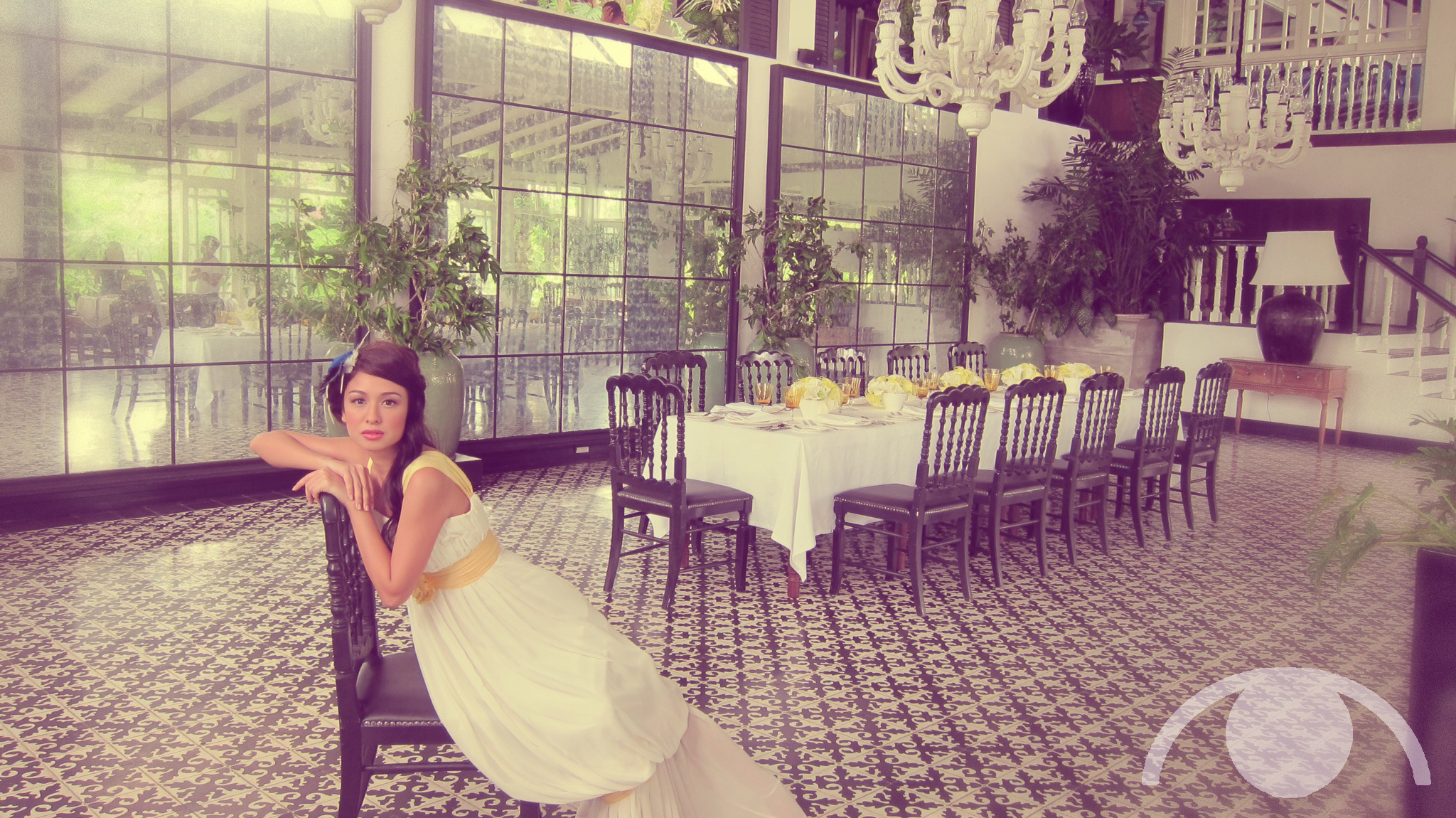 (Silk chiffon gown with soft bubble skirt and train and yellow silk details by Tippi Ocampo and fabric rosette fascinator with beads with peacock feathers by Bonne)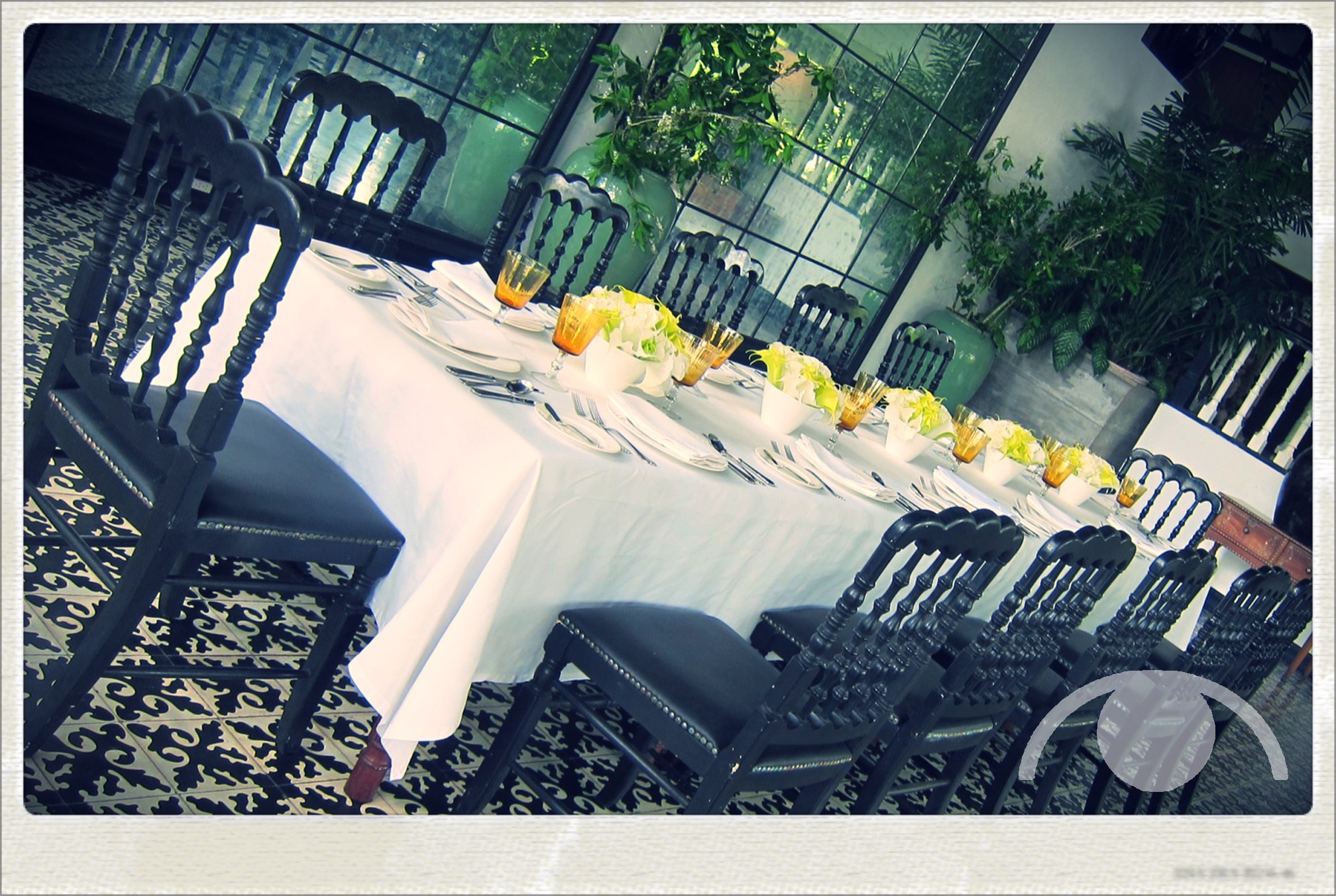 I truly love this intimate long table setting and its modern and simple floral arrangements.  It's ideal that the floral centerpieces are not big and tall, allowing you to see those seated in front of you….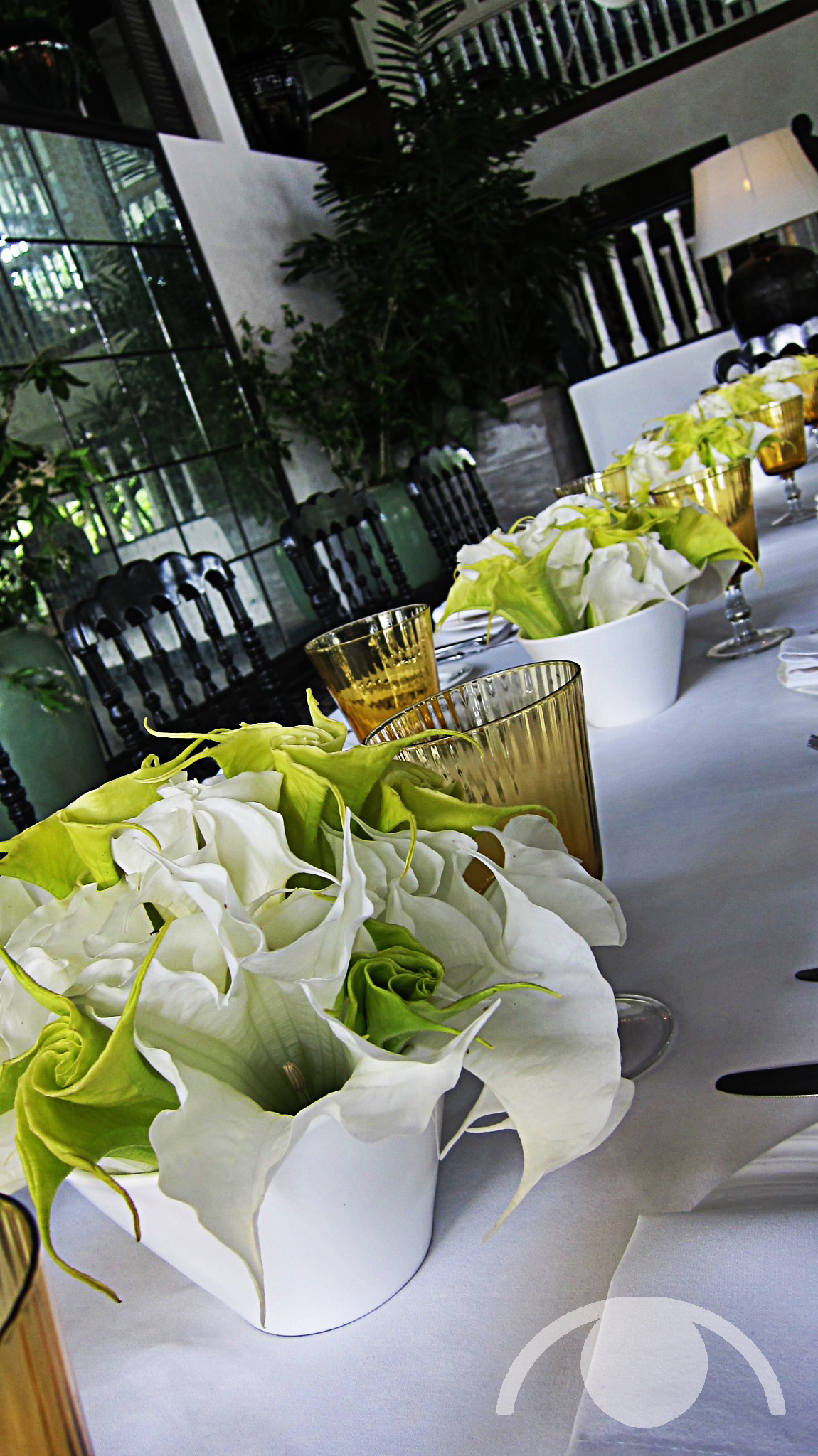 Ambiance ;)……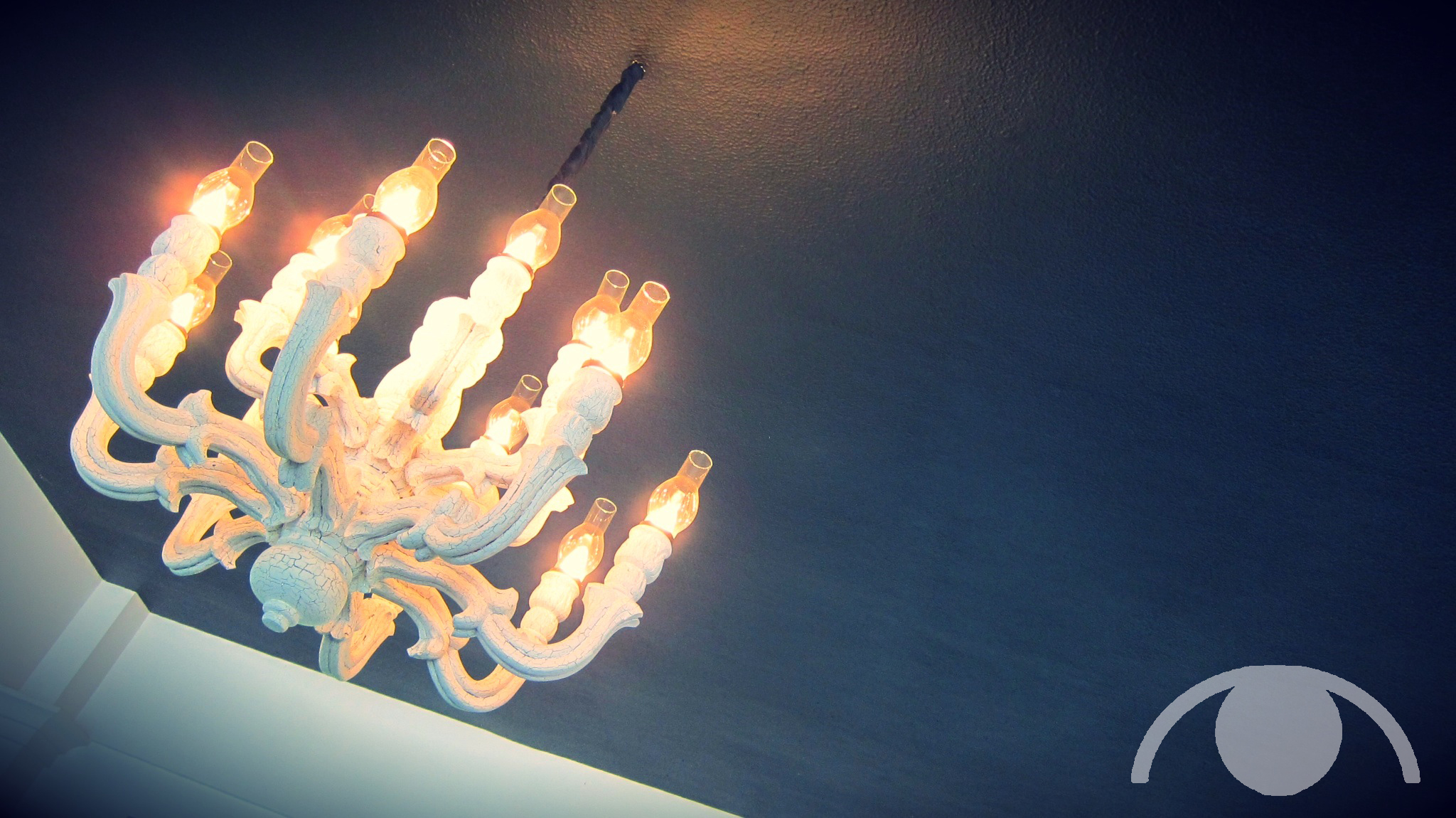 Our bride for the day and actual bride-to-be prepping to be picture perfect….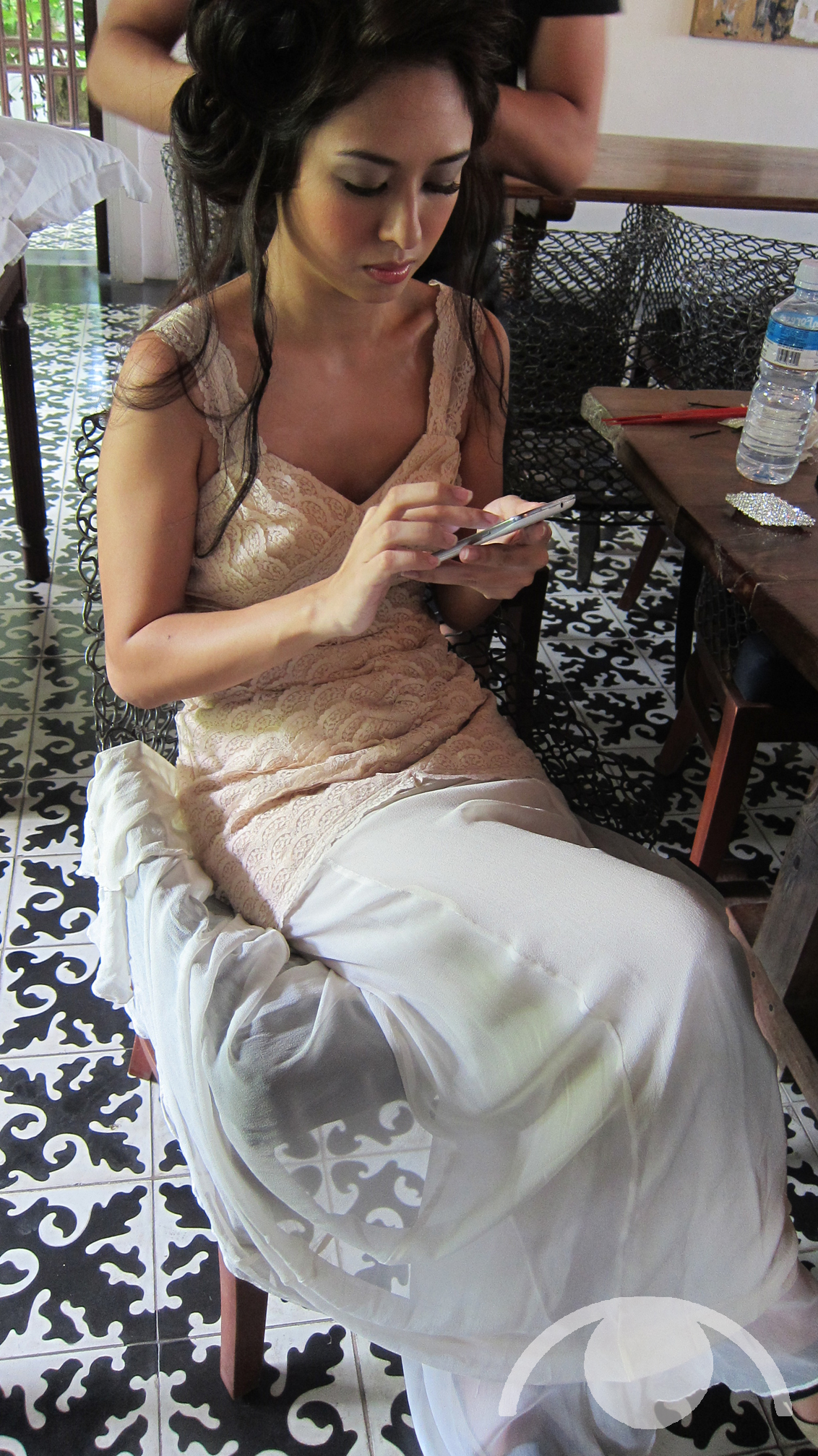 Preparing the veil…. I couldn't help but feel excited for Kelly as if it were the actual big day!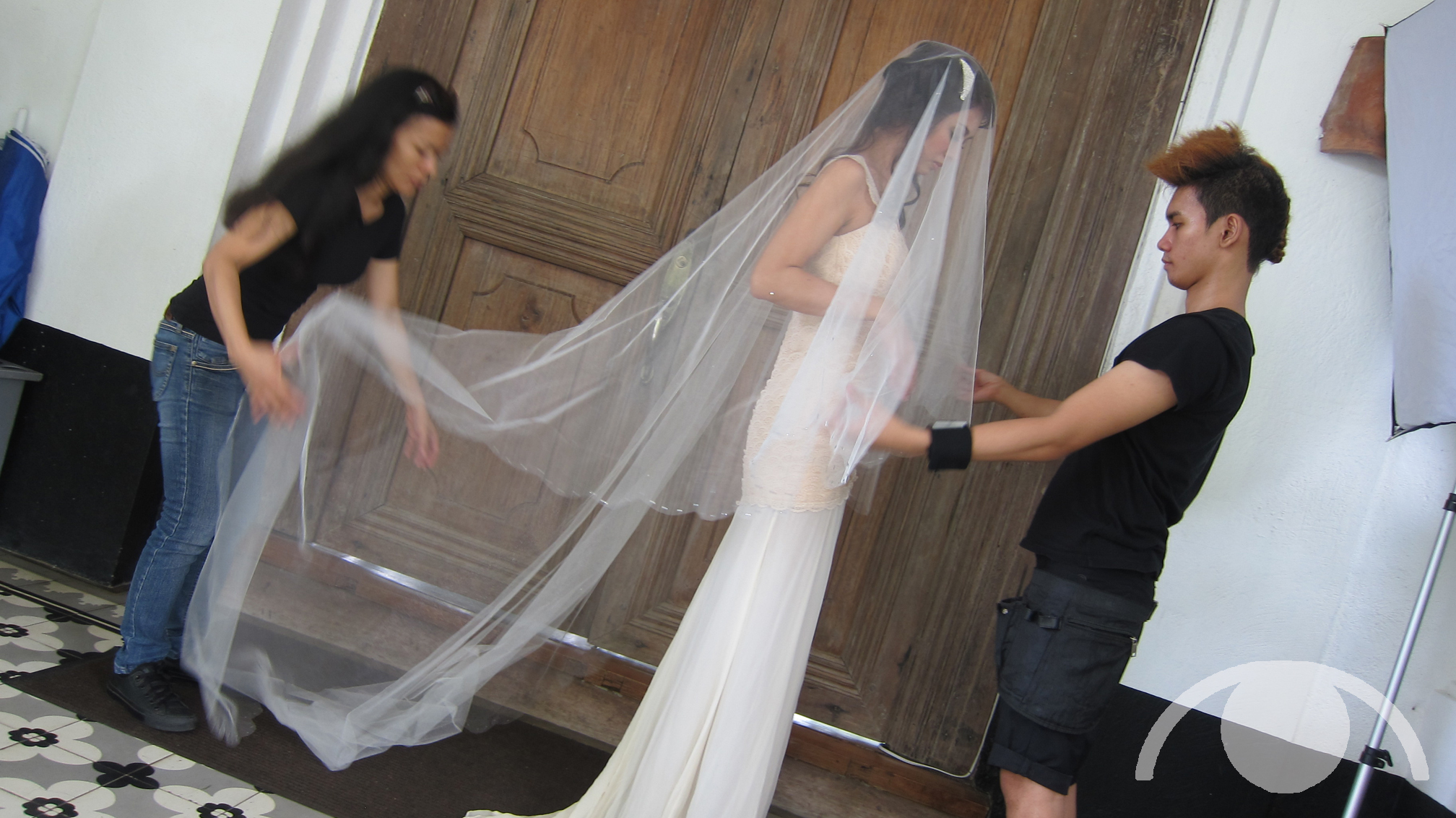 Peek-a-boo!  Telling this bride to just breathe….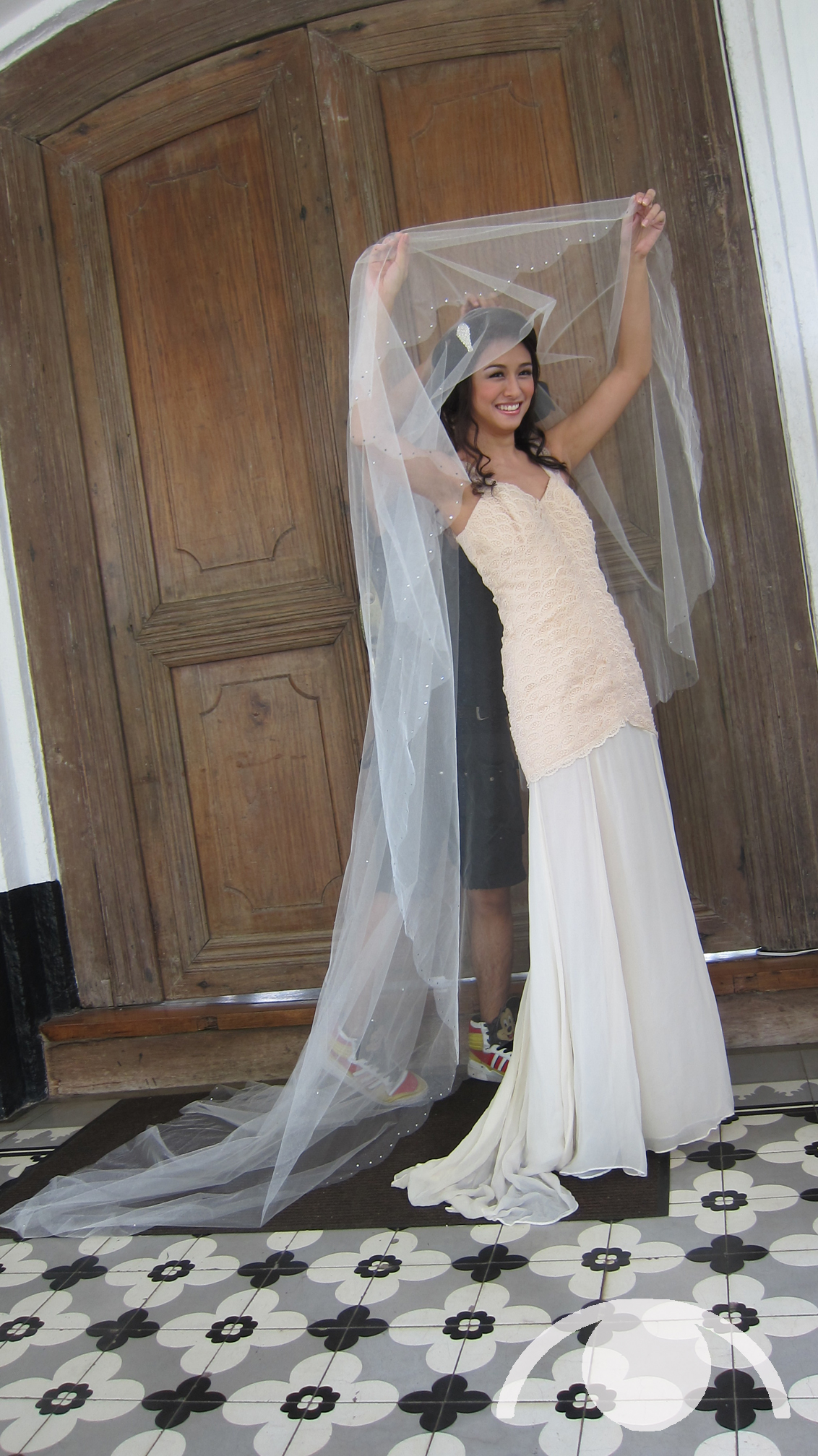 Strike a pose…. A bridal gown doesn't have to be all white. Even a subtle blush tone can make all the difference in the world like this gown by Tippi Ocampo with a bodice of layered strips of lace and silk chiffon skirt, veil with crystals by Danilo Franco for Sheila de las Llagas-Hidalgo….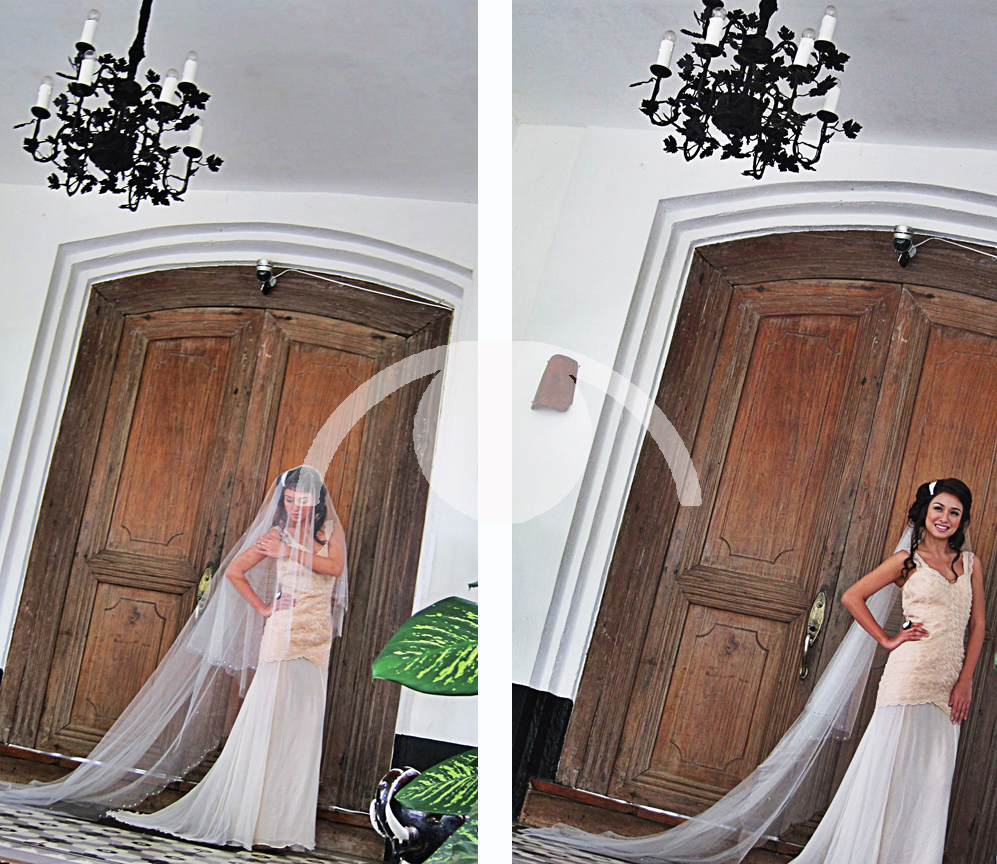 Or even taupe.  Interesting layers make up the details of this exquisite taupe gown with silver embroidery by Mitzi Quilendrino-Bustos paired with a large rosette cocktail ring by Kathy Webb….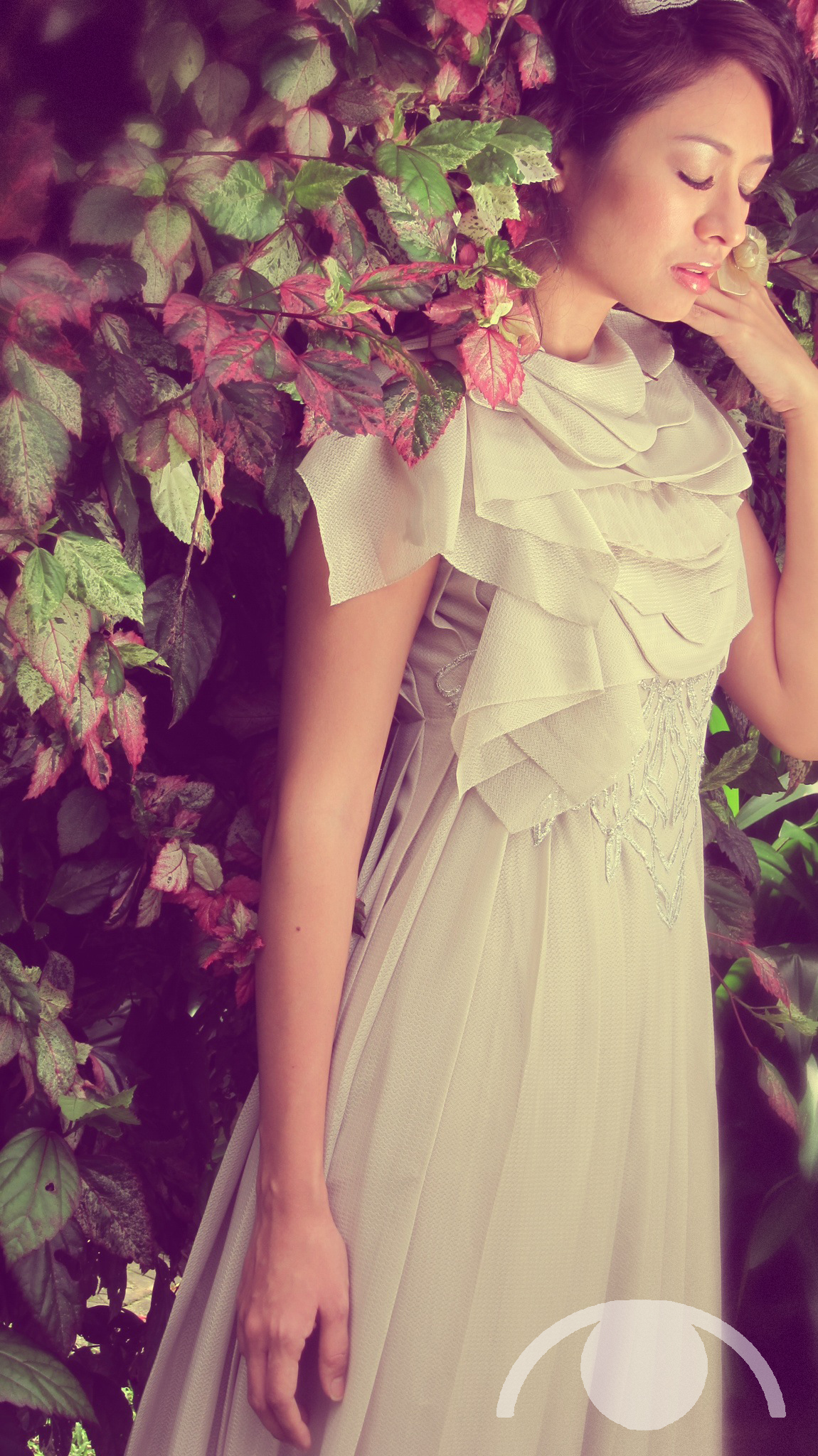 A garden wedding and French toile print go hand-in-hand and creates that garden fresh look.  I love how designer Joey Samson took the extra leap of faith and created a romantic full-length gown using this print.  Just to add a bit of an edge, I accessorized with statement pieces, a bejeweled brass cuff with stone by Ann Ong, Edwardian ring by Kathy Webb.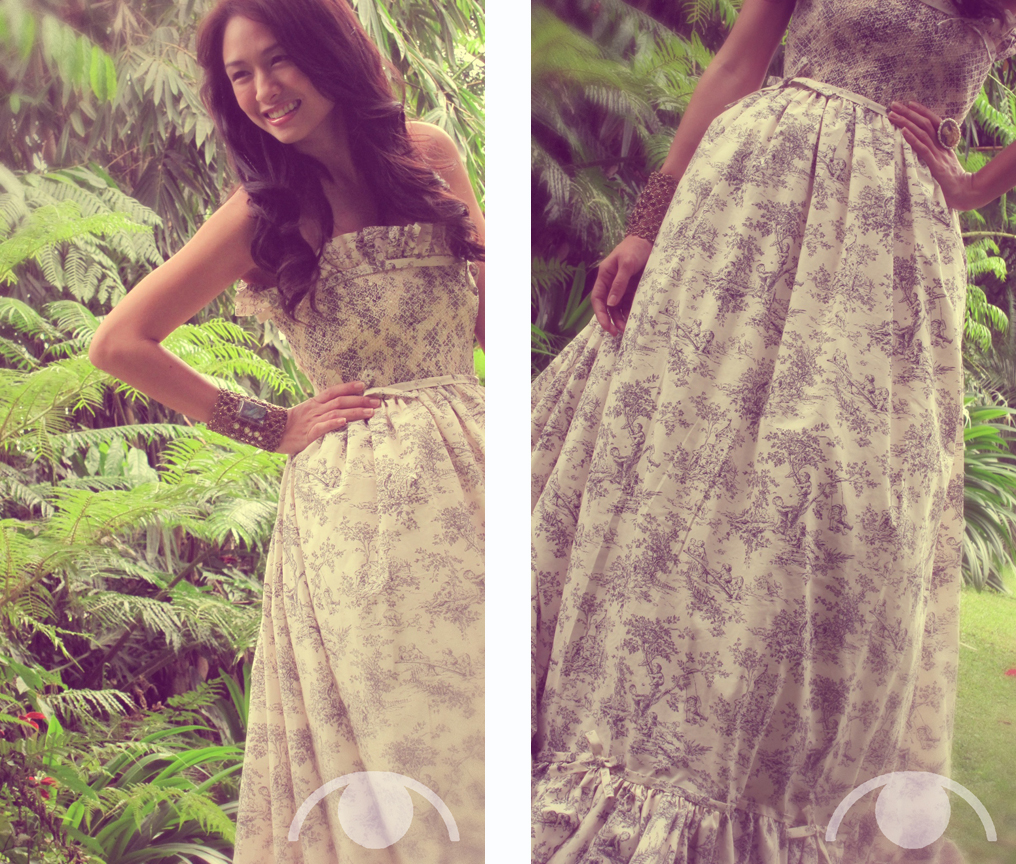 I've always loved vintage-style glam, this sweet and dainty dress by James Reyes and Bonne's wedding veil head piece had me thinking of Audrey Hepburn….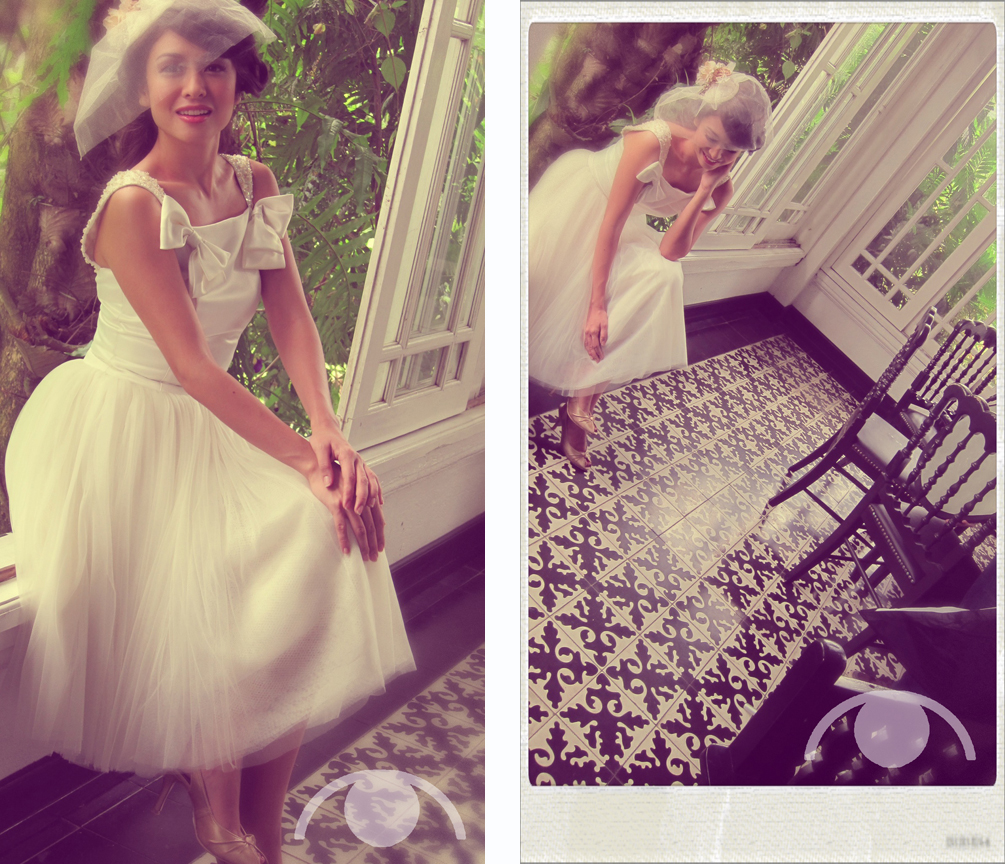 Another fun vintage-inspired ensemble… Dress by Kristel Yulo and head piece by Bonne!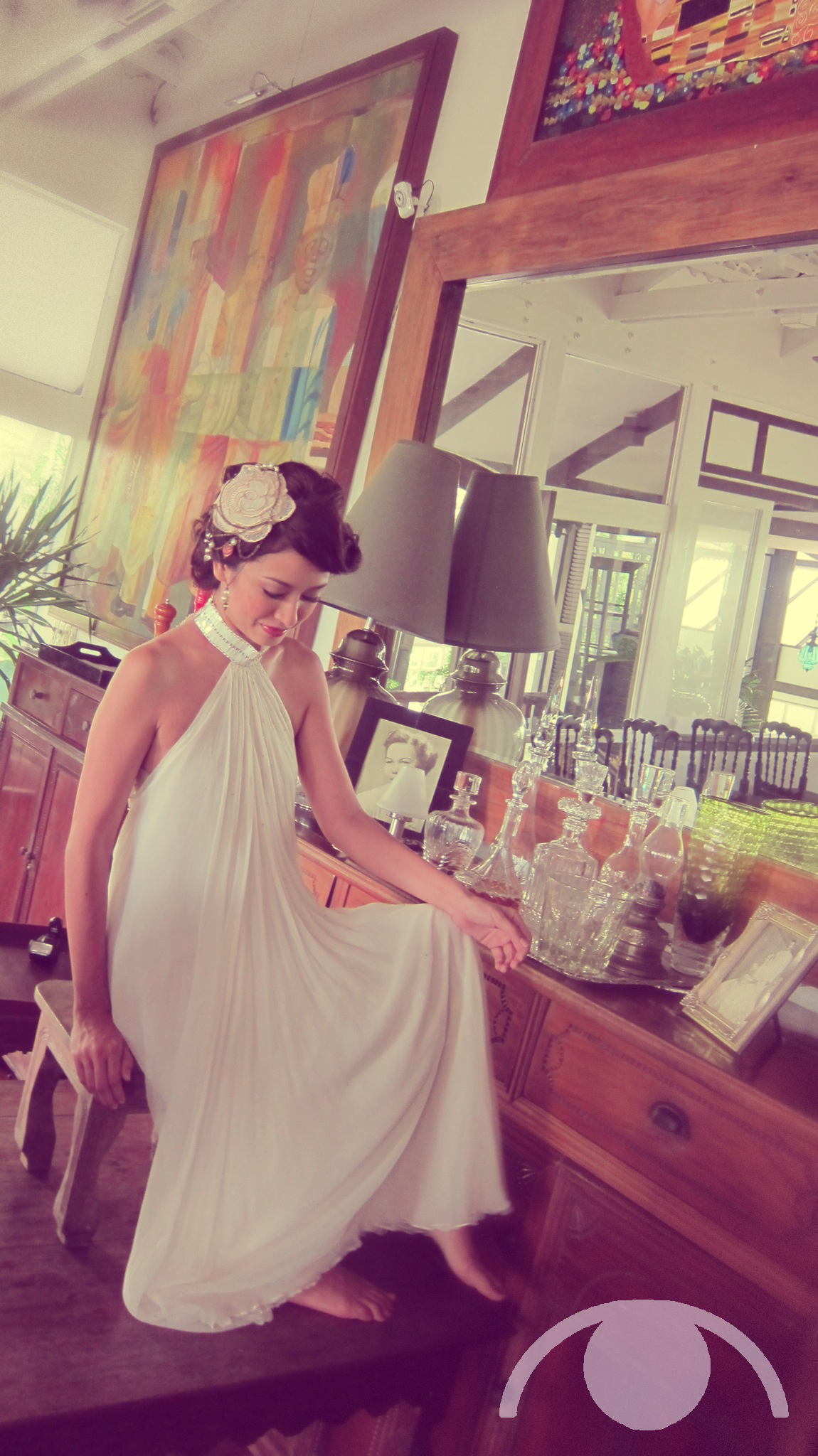 Kick off those shoes, relax and have fun!  I just adore those wedding receptions where the guests and bride are barefoot already and  just dancing the night away….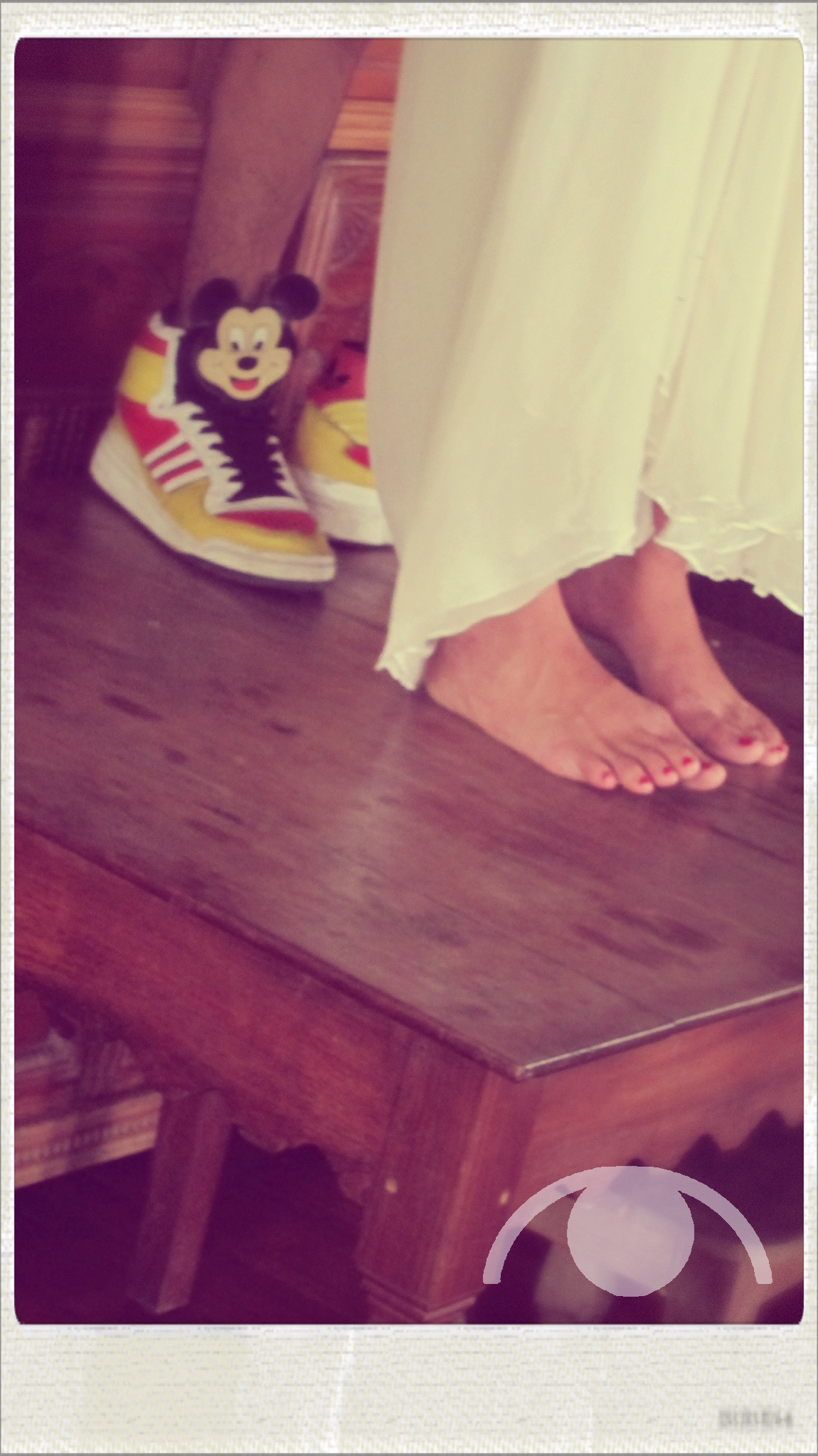 Thank you to our wonderful team!
Photographer: Shaira Luna
Fashion Stylist: Guada Reyes
Fashion Assistant: Aibel Sayson
Makeup Artist: Vida Non-Jaucian
Hairstylist: Mark Familara
Model: Kelly Misa
Always a pleasure to work with you all!  😉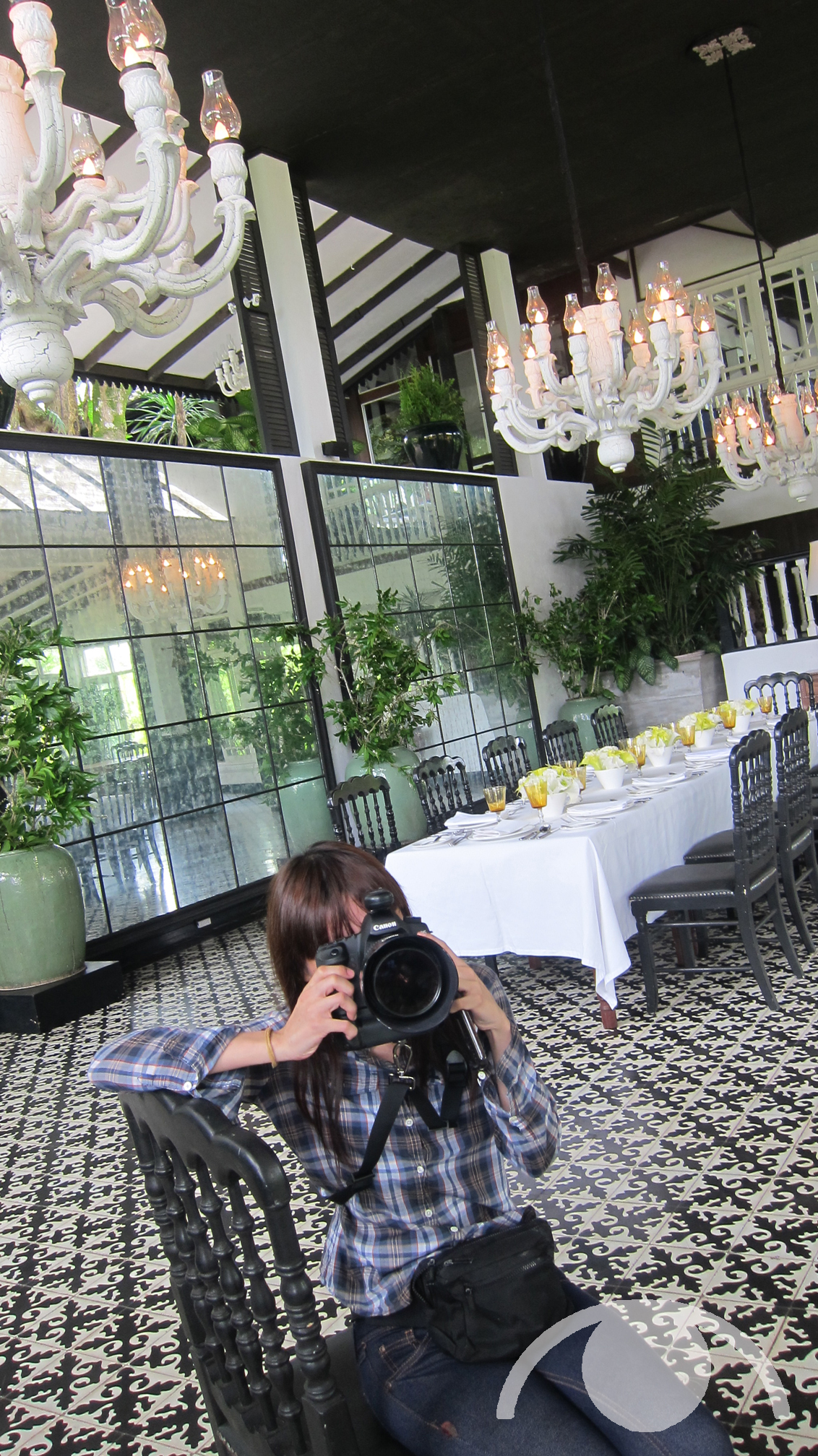 Unauthorized use and/or duplication of this material without express and written permission from this blog's author and/or owner is strictly prohibited. Excerpts and links may be used, provided that full and clear credit is given to One Good Eye Concepts and ToEyeFor.com or An Eye for an Eye… with appropriate and specific direction to the original content.