Weddings to me are more meaningful when personal effects are put together by the would-be bride and groom.  Rather than "factory" and cookie-cutters, it's these little touches that always provide a nice surprise….
Kylene lovingly applies her creative magic to the wedding invitations with pressed maples leaves flown in from Canada.  Can you guess the theme of their wedding?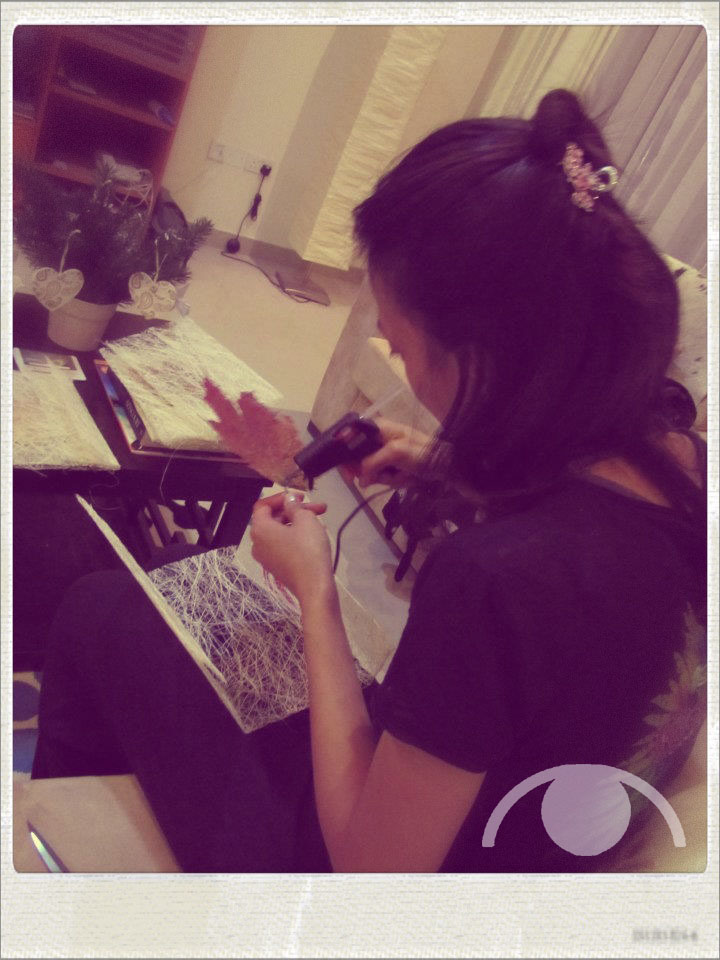 (Photos courtesy of Chino Zabala)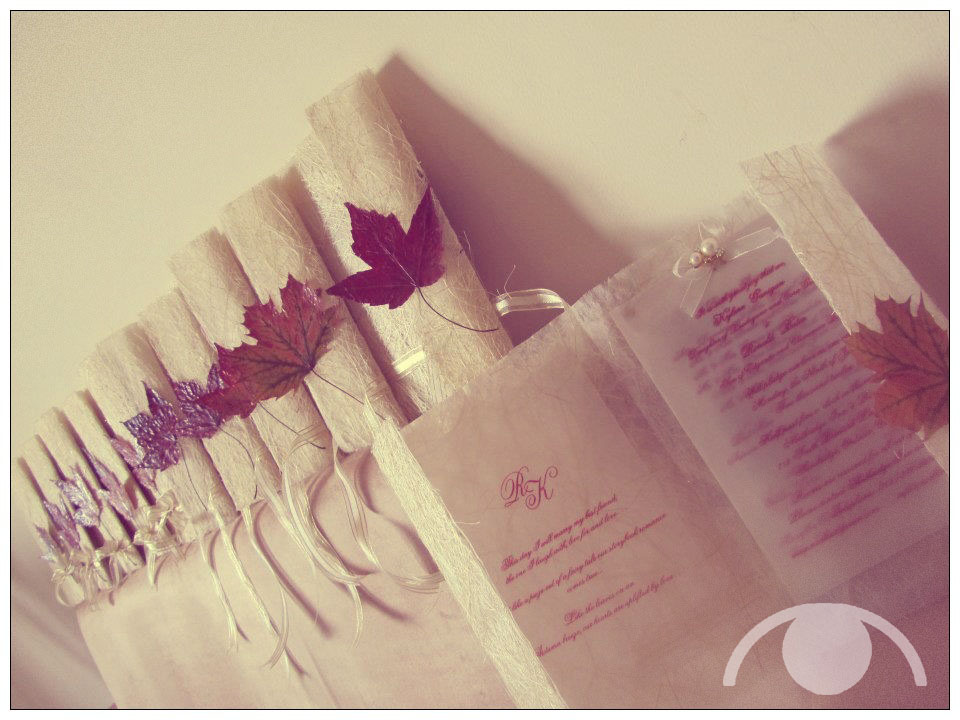 The final product of this labor of love…. I would love to receive something like this in the mail!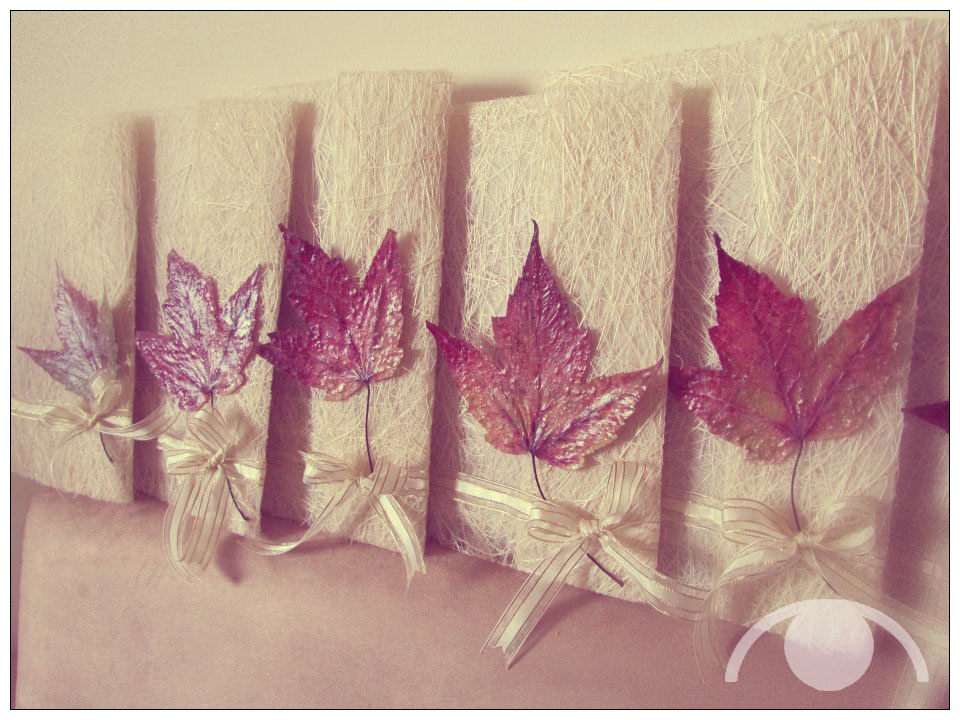 Finally, the big date has arrived.
Kylene made the perfect bride that day.  "Ethereal" and "heavenly" aren't even close to how one can describe this bridal beauty in gossamer.  Calm, confident and poised, she has nothing to fear and always looking forward….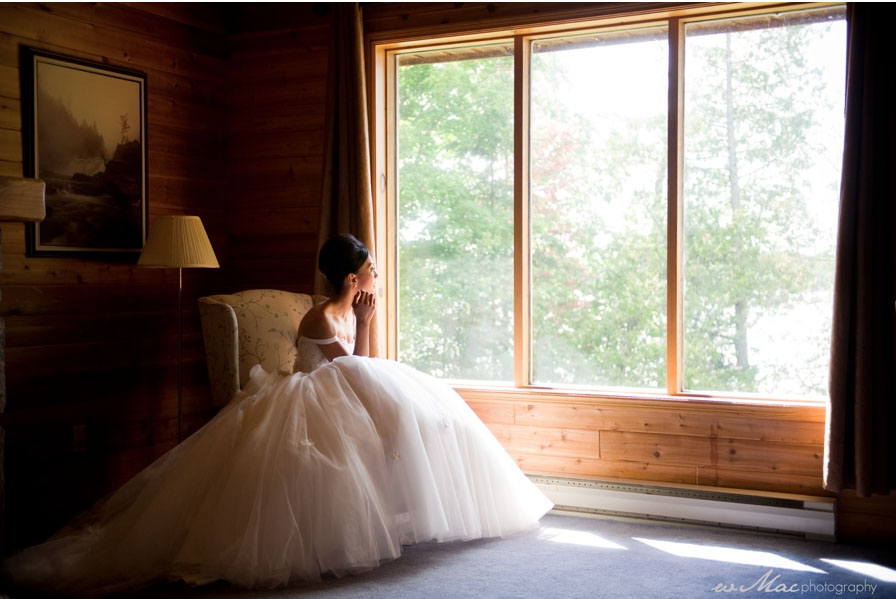 A definite MUST-SEE are the beautiful photographs and the amazing details of  Kylene and Ronald "Chino" Batin's gorgeous, GORGEOUS wedding ceremony and reception!  View the wonderful captured moments here- W Mac Photography.
The DETAILS, I tell you!  So beautiful and classy… Just right and not over-the-top.  There were distinct touches from their pre-nuptial shoot laid out in autumn colors that mixed well with the lakeside setting of the Northridge Inn in Muskoka, just a couple hours north of Toronto in Canada.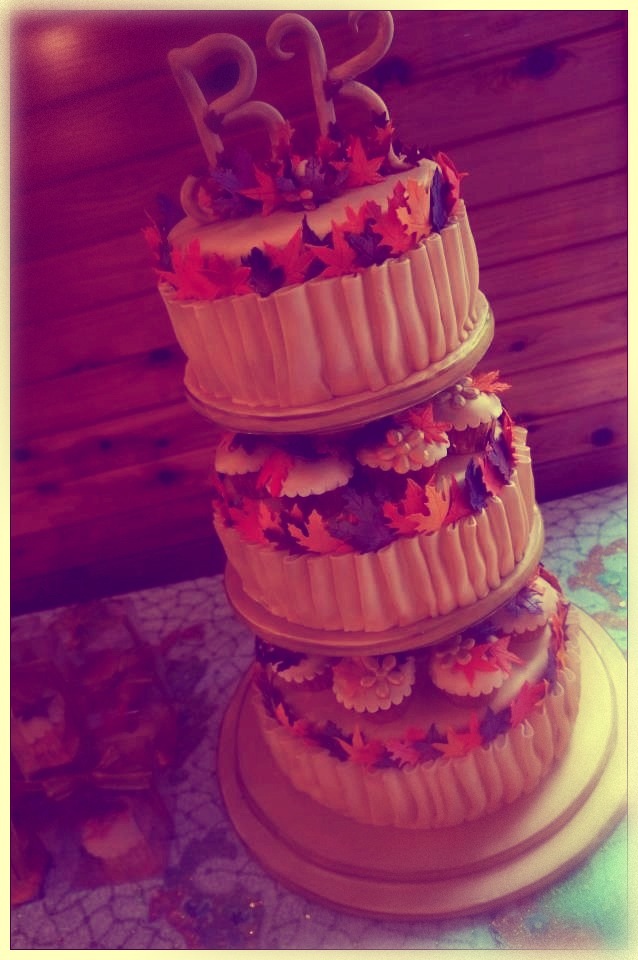 (Photo above courtesy of Katarina Ganigan)
During a business trip to India, Chino bought some sarees in rich, fall tones for then-girlfriend Kylene. I'm sure he did not foresee that eventually these sarees would play an important role in their future.  They were not only used for Kylene's pre-wedding, Arabian-inspired outfit by Abu Dhabi-based, Filipino fashion designer, Dan Delima….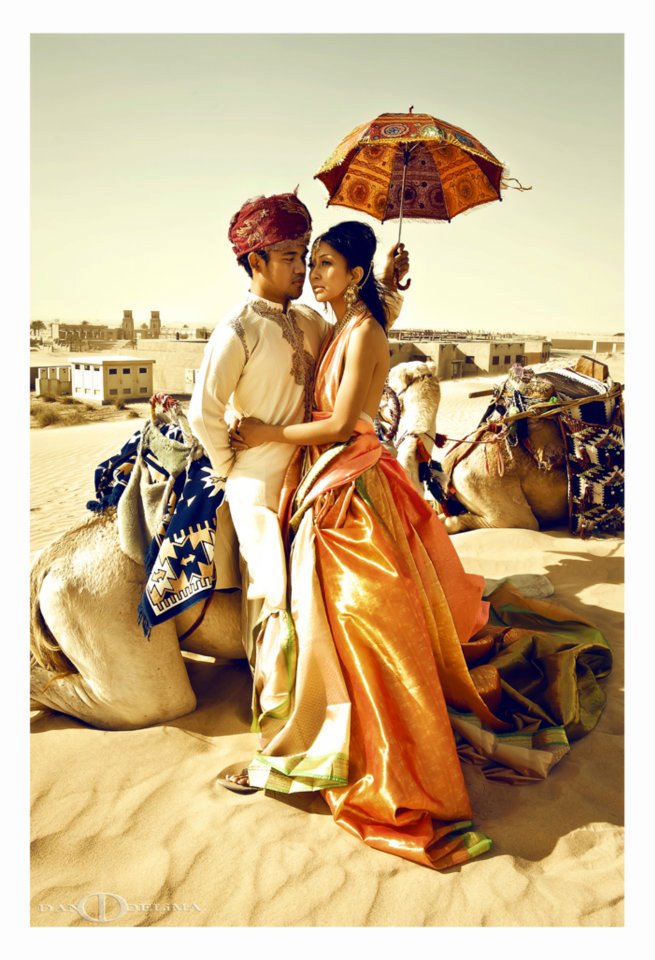 (See the rest of their pre-nuptial shoot here.)
…. But were later sent to Filipino designer, Lyle Ibanez, to repurpose by incorporating them into the bridesmaids' gowns.  The sarees were also made into bow ties for the groomsmen by Dan Delima, who also designed Kylene's stunning and exquisite bridal gown.
From the deserts of Abu-Dhabi for their pre-nuptial shoot to the lakeside of Canada for their wedding, where else can this jet-setting couple enjoy their honeymoon?
Maldives, but of course!  Could this be any more perfect for our adventure lovers?  Photos courtesy of Mr. & Mrs. Batin.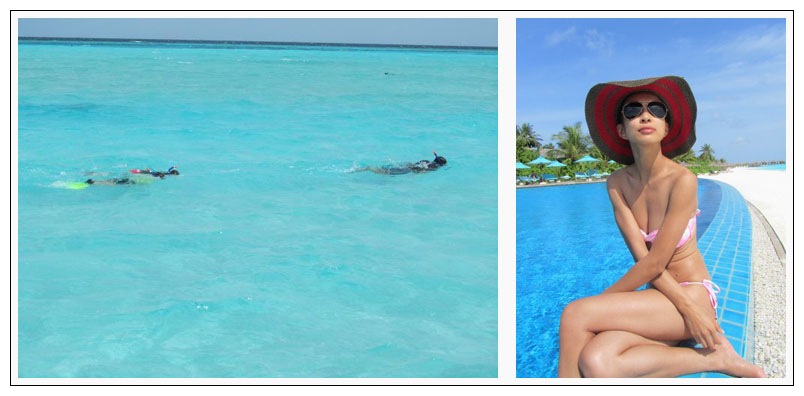 The Anantara Dhigu Maldives…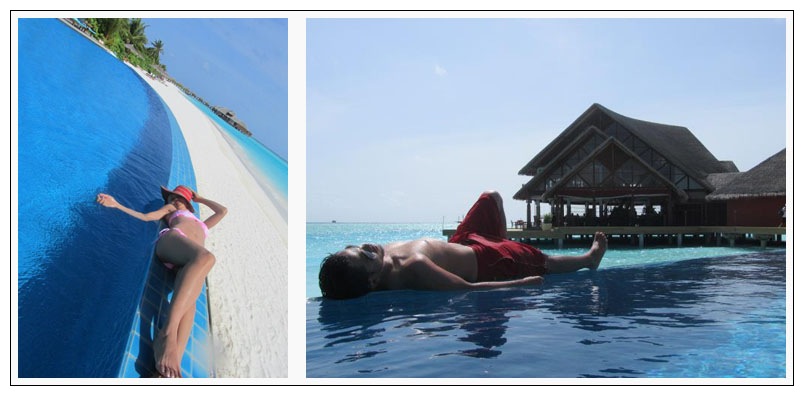 His and hers hammocks….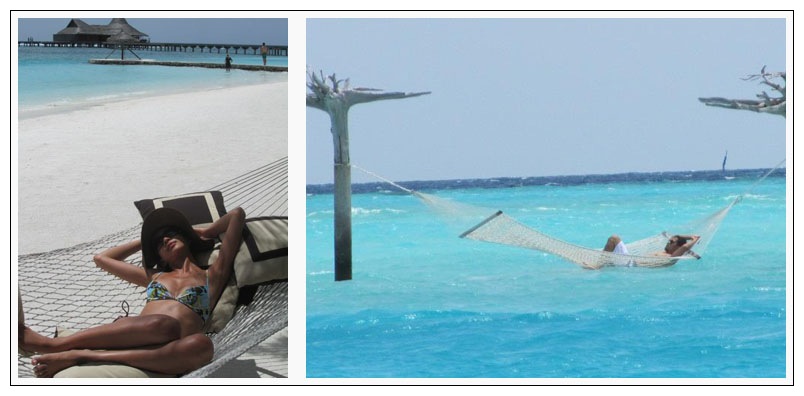 This is what you call a feast for the eyes! ….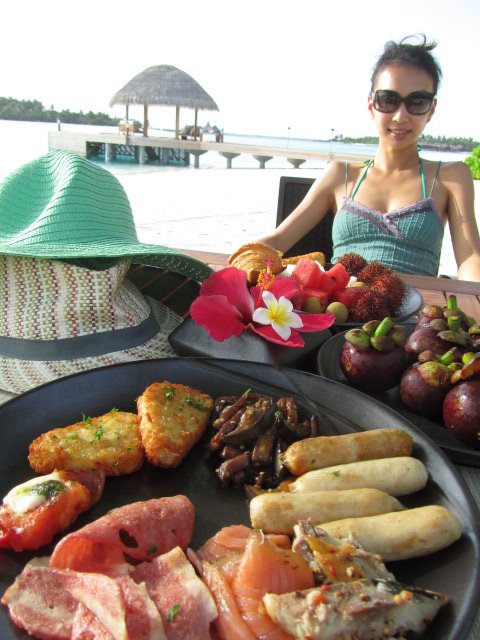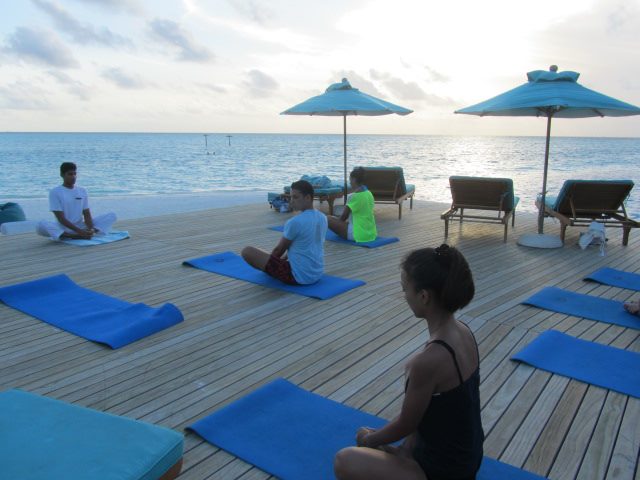 Yoga followed by a sunset dinner….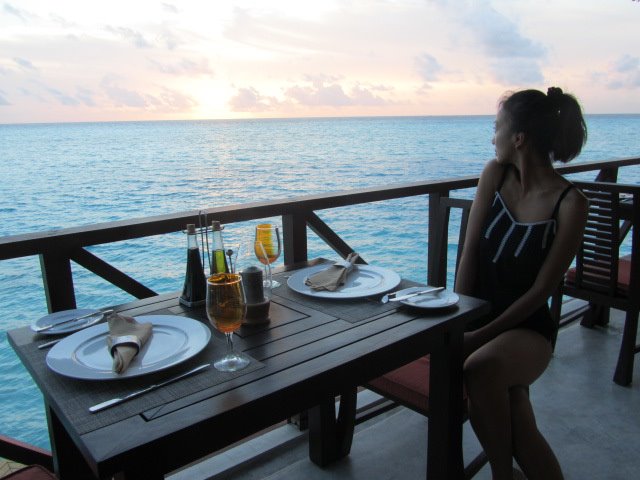 Their journey has taken them to three continents. Now the real adventure lies ahead…..
Congratulations, Mr. and Mrs. Batin!
Unauthorized use and/or duplication of this material without express and written permission from this blog's author and/or owner is strictly prohibited. Excerpts and links may be used, provided that full and clear credit is given to One Good Eye Concepts and ToEyeFor.com or An Eye for an Eye… with appropriate and specific direction to the original content.